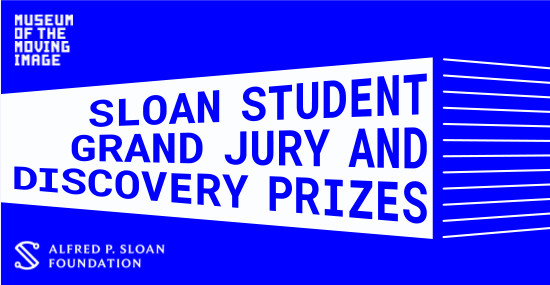 Museum of the Moving Image and Sloan Science & Film are pleased to expand our relationship with the Alfred P. Sloan Foundation with the Sloan Student Grand Jury and Discovery Prizes. The program, established and formerly administered by Tribeca Film Institute, awards aspiring filmmakers from select schools across the nation a cash prize, along with dedicated mentorship and unique networking opportunities.
The Sloan Student Grand Jury and Discovery Prizes celebrates two outstanding feature film or scripted series screenplays annually—from those nominated by twelve top graduate film programs—that integrate science or technology themes and characters into a realistic, compelling, and timely story. Two winners, selected by a jury of esteemed film and science professionals, receive a $20,000 prize and are provided industry exposure, feedback, and year-round mentorship from a science advisor and film industry professional. These prizes aim to support film development and advance the careers of diverse, emerging filmmakers interested in science and technology as they transition out of graduate school and into the film industry.
The Sloan Student Grand Jury Prize, first established by the Tribeca Film Institute and the Alfred P. Sloan Foundation in 2011, will be awarded through a nomination process conducted by the six leading university film schools that partner year-round with the Alfred P. Sloan Foundation. They are: American Film Institute; Carnegie Mellon University School of Drama; Columbia University Film Department; NYU Tisch School of the Arts; UCLA School of Theater, Film and Television; and USC School of Cinematic Arts. Each school will nominate one screenplay or scripted series pilot from those that have been recognized for its realistic and compelling depictions of science and technology themes or characters. The Grand Jury Prize is awarded to the best-of-the-best from these program partners.
The Sloan Student Discovery Prize, newly established in 2019 by the Tribeca Film Institute and Alfred P. Sloan Foundation, is open to nominations from six public universities with established graduate film programs. The schools are: Brooklyn College Feirstein School of Cinema; Florida State University; SUNY Purchase School of Film and Media Studies; Temple University; University of Texas at Austin; and University of Michigan. Each school nominates one screenplay or scripted series pilot for consideration by the jury.
About the Prizes:
Applications are accepted by nomination only.
Applicants can submit a feature film screenplay or a pilot with series treatment.
Scripts should prominently feature science, engineering, mathematics, or technology in the story.
Finalists will be expected to go through one round of notes with an assigned writing mentor and then submit a revised screenplay with a formal application in fall 2021 to be reviewed by a jury of science and film industry professionals.
Each award comes with a $20,000 prize and year-round mentorship from a science and film industry advisor.
The winners will be celebrated at a public awards ceremony at Museum of the Moving Image in November 2021.
The winning screenplays will be showcased at MoMI's annual First Look Festival in March 2022 with a session dedicated to screenplay readings and feedback.
The winning filmmakers will be asked to participate in a mentor workshop with MoMI's Teen Council.
MoMI staff will oversee the distribution of funds to the winning filmmaker and will monitor the ways in which those funds are used.
Meet the 2021 Writing Mentors:
Claudia Weill is a film, television, and theater director. Her first feature, Girlfriends, won multiple awards at Cannes, Filmex, and Sundance. Her second feature, It's My Turn, won the Donatello (European Oscar) for Best New Director. She made 30 short films for Sesame Street and has directed numerous documentaries, notably This Is the Home of Mrs. Levant Graham (Kennedy Journalism Award) and The Other Half of the Sky: A China Memoir, with Shirley MacLaine, nominated for an Academy Award. Her work in television includes multiple episodes of Thirtysomething (Humanitas and Emmy Awards), My So-Called Life, Chicago Hope, and Girls. She serves on the Directors' Executive Committee for the Academy of Arts and Sciences and on the Board of Antaeus, the only classical theater in L.A.
Luca Borghese is co-founder of AgX, a New York–based production company. Recent projects include Diane (dir. Kent Jones), which premiered in competition at Tribeca and Locarno in 2018; Monsters and Men (dir. Reinaldo Marcus Green), which won the Special Jury Award for Best First Feature at Sundance before being released by Neon; and Eric Steel's Minyan which premiered in the Berlinale in 2020. He was also Associate Producer on James Gray's The Lost City of Z and Bong Joon Ho's Okja.
Musa Syeed is a writer-director whose two features, Valley of Saints (Sundance Audience Award Winner) and A Stray (SXSW Official Selection), were both New York Times Critic's Picks. He was also a co-writer on the acclaimed feature Menashe, distributed by A24. Musa Syeed's short films include the Sundance selections The Dispossessed and The Big House, as well as the documentaries Bronx Princess (Berlinale) and A Son's Sacrifice (Best Short Doc, Tribeca). He is currently Briggs-Copeland Lecturer in Screenwriting at Harvard.
Kate Sharp is an Emmy-nominated producer and Literary Manager at Bellevue Productions. Her feature film credits include Peep World, starring Michael C. Hall, Sarah Silverman, Rainn Wilson, Taraji P. Henson, and Judy Greer; Better Living Through Chemistry, which starred Sam Rockwell, Olivia Wilde, Michelle Monaghan, and Jane Fonda; and Madame Bovary, which had its World Premiere at the 2014 Telluride Film Festival. Sharp also served as an Executive Producer on the Hulu original TV series Behind the Mask. She produced short-form content for companies such as Showtime, MTV, and Verizon. For five years, Sharp was an executive at Occupant Entertainment, serving as Vice President of Development and Production for the last two.
Emily Rappaport is Literary Director at Conner Literary, a book-to-film/TV scouting firm sourcing fiction and nonfiction titles for adaptation. She previously worked in television development at Annapurna Pictures and in the television literary and packaging department at United Talent Agency. She has equal love for books and movies, dogs and cats, New York (where she's from) and Los Angeles (where she lives).
Nissar Modi is the screenwriter of Breaking at the Edge(2013) and Z for Zachariah (2015). He graduated with a B.A. (Hons) in Film Production from the University of Southern California, and has written scripts for a wide array of actors and filmmakers including Will Smith, Leonardo DiCaprio, Matt Reeves, Gary Ross, Chloe Moretz, and David Mackenzie.
Previous Grand Jury and Discovery Prize Winners (awarded by the Tribeca Film Institute):
Zoe Fleer, Clamming (2020 Discovery Prize)
Matthew Jackett, White Coffins (2020 Grand Jury Prize)
Anderson Cook, James Thomas Thinks The Earth Is Flat (2019 Grand Jury Prize)
Andrew Rodriguez, Plus (2019 Discovery Prize)
Jeremy Palmer, The Valley of Dry Bones (2018 Grand Jury Prize)
Annie Pulsipher, The Glowing Gene (2017 Grand Jury Prize)
Shawn Snyder & Jason Begue, To Dust (2016 Grand Jury Prize)
Savannah Reich, Deep Sea Divers of 1929 (2015 Grand Jury Prize)
Laura Alsum, Survival of the Fittest (2014 Grand Jury Prize)
Barnett Brettler, Waking Hours (2013 Grand Jury Prize)
Grainger David, Penny Stock (2012 Grand Jury Prize)
Robert Cohen, Bystander (2011 Grand Jury Prize)
To learn more about the Sloan Film Program and browse all previous winners, visit scienceandfilm.org/projects
This program is made possible with the support of the Alfred P. Sloan Foundation.
The Alfred P. Sloan Foundation is a New York based, philanthropic, not-for-profit institution that makes grants in three areas: research in science, technology, and economics; quality and diversity of scientific institutions; and public engagement with science. Sloan's program in Public Understanding of Science and Technology, directed by Doron Weber, aims to enrich people's lives through a keener appreciation of our increasingly scientific and technological world and to humanize the lives of the men and women working as scientists, engineers, and mathematicians. The goal is to integrate the two cultures of science and the humanities by supporting an array of original works such as books, radio, television, film, theater, and new media. The Foundation works with about 20 film school and film festival partners and has supported over 750 film projects, including over 30 feature films. For more information visit sloan.org.