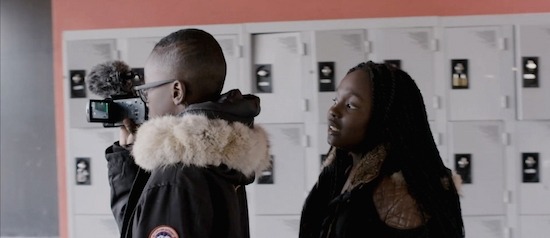 NEW ONLINE RELEASE

Un Film dramatique
February 26–March 21
MoMI is pleased to partner with The Cinema Guild to bring Un Film dramatique directly to Museum members and patrons to view from home. To support the Museum, please use the link below to watch the film.

Use this link to view Un Film dramatique from home (tickets: $12 / $10 MoMI members). A portion of ticket sales benefits the Museum and its staff.
Dir. Éric Baudelaire. France, 2019, 114 mins. In French with English subtitles. Filmed over the course of four years,
Un Film dramatique
is a lively documentary and collaboration between renowned artist-filmmaker Éric Baudelaire and a group of 21 middle-schoolers at Dora Maar Middle School—located on the outskirts of Paris—who playfully document their daily lives and experiment with cameras. Using an innovative approach to education and filmmaking, Baudelaire (Letters to Max) sparks important conversations following the 2015 terrorist attack in Paris and debates around the approaching elections and immigration regulations. Through a child's lens, this film offers insights into the realities of our current sociopolitical moment. A 2019 New York Film Festival and 2019 Toronto International Film Festival official selection. A Cinema Guild Release.
View trailer.
Critic's Pick: "Seeing the world through the eyes of these children…makes this movie so deeply joyful." —Teo Bugbee, The New York Times
"A lovely and intimate work that explores the possibilities of the cinematic medium, what it means to tell a story, and the power and liberation in shaping a narrative." —Demi Kampakis, Reverse Shot