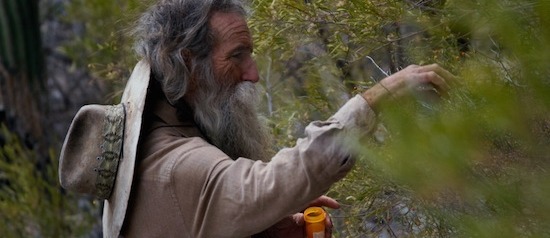 NEW ONLINE RELEASE

A Shape of Things to Come
March 3–22
MoMI is pleased to partner with Grasshopper Film to bring
A Shape of Things to Come
directly to Museum members and patrons to view from home. To support the Museum, please use the link below to watch the film.
Click here to purchase tickets ($12 / $10 MoMI members) and view the film from home.
A Shape of Things to Come
Dirs. Lisa Marie Malloy, J.P. Sniadecki. U.S., 2020, 77 mins. In the Sonoran Desert on the Mexican border, an elderly man, Sundog, lives off anything nature gives him, be it a wild boar or the psychedelic poison of a toad. A Shape of Things to Come foregrounds the sensory materiality of the desert, moving past the human to offer more down-to-earth animal perspectives. Malloy and Sniadecki create a world that evokes the ecological movements of the 1960s while pointing to a possible postapocalytpic future. When the border patrol agents threaten the peace in Sundog's desert kingdom, the armed recluse is prepared to defend his world. A Grasshopper Film release. View trailer.
"Fascinating. Sublime."—Matt Turner, Brooklyn Rail