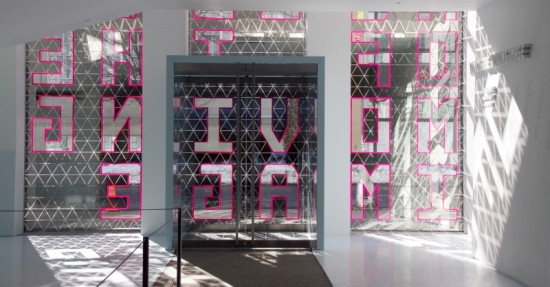 Museum at a Glance
EARLY VOTING AT MOMI: October 24 through November 1, 2020
Saturday, October 24: 10:00 a.m. to 4:00 p.m.
Sunday, October 25: 10:00 a.m. to 4:00 p.m.
Monday, October 26: 7:00 a.m. to 3:00 p.m.
Tuesday, October 27: 12:00 p.m. to 8:00 p.m.
Wednesday, October 28: 12:00 p.m. to 8:00 p.m.
Thursday, October 29: 10:00 a.m. to 6:00 p.m.
Friday, October 30: 7:00 a.m. to 3:00 p.m.
Saturday, October 31: 10:00 a.m. to 4:00 p.m.
Sunday, November 1: 10:00 a.m. to 4:00 p.m.
For more information (look up your early voting poll site), visit vote.org.
While the building will be open for early voting, please note galleries and theaters are closed. The Museum's current programming is taking place online and at the Queens Drive-In.
Museum of the Moving Image is the country's only museum dedicated to the art, history, technique, and technology of the moving image in all its forms. The Museum is a one-of-a-kind destination for audiences of all ages and interests, from connoisseurs of classic cinema to children and families to avid gamers.

Embracing a wide range of subjects, from nineteenth century optical toys to the latest in digital art, the Museum explores every phase of the production, promotion, and exhibition of moving images. It offers an engaging, highly interactive core exhibition, programs of contemporary and classic films from around the world, discussions with leading figures in film and television, a unique collection, inspiring educational programs for learners of all ages, stimulating changing exhibitions, and groundbreaking online projects.